Check out the news blog to read the biggest stories from across the Goulburn Valley.
Gday Shepparton, Max Stainkamph here and I'm back on the live blog as we tackle the big and small stories of the day.
We're heading for a sunny high of 26 after 10 degrees overnight and, dare I say it, it looks like we're over the worst of the summer heat.
UPDATE, 5:10 p.m.: That's it, folks.
We'll call him over there for the day, folks – that fire doesn't seem to be having too much of an impact and I have to move on to soccer practice.
I'll be back tomorrow with a FriYAY live blog, but I'll leave you with one last thread from Darren Linton.
The countdown is on for Shepparton's first Anglican School, and registration is expected to open this month for the new All Saints Anglican School, which will open in 2024.
Read the full story here.
UPDATE, 4:55 p.m.: Fire? Accident? On Pavement
My colleague Anna McGuinness just told me there's an incident on the roadway that sent fire crews rushing there.
We don't know what the problem is, if it's a car accident or a fire on the road, but if you see a lot of red fire trucks rushing there, that'll be why. It doesn't look major, which is a good sign. I'll let you know if it gets worse.
It looks like the Tatura incident is also under control.
UPDATE, 4:40 p.m.: Vaccine anniversary for GV Health
GV Health has quietly reached a milestone today, marking one year to the day since the first vaccine was administered at GV Health.
Since then, they have distributed more than 220,000 first, second and third doses to everyone aged five and over.
Plus they had cake!
UPDATE, 4:10 p.m.: Crash near Tatura
There was an accident near Tatura this afternoon between two vehicles.
The incident happened minutes ago on the corner of Turnbull Rd and Ferguson Rd, with emergency services on scene.
A person is believed to be trapped, but at this point we believe they were unharmed. If we get more information, I'll let you know.
I would stay out of the area for now if I could.
UPDATE, 3:45 p.m.: Sheed seeks land support, new school ready for enrollment
Shepparton MP Suzanna Sheed has asked Planning Minister Richard Wynne to meet with local government officials and developers in Shepparton to discuss the shortage of land in the town.
Ms Sheed said people were being forced to look to existing properties in residential areas for renovation, leading to fewer investment properties and rentals, and growing demand for social housing.
Darren Linton has the whole story here, while he also has another thread on Shepparton's first Anglican school, with enrollment set to open this month for their first year in 2024.
Read this story here.
UPDATE, 2:45 p.m.: Paramedics, public, attempted to rescue the deceased man
Georgia Rossiter has an update on the tragic incident inside Coles on Wednesday.
A man has died following a medical emergency. Read the full story here for more information.
UPDATE, 2.20 p.m.: A proposed multicultural smorgasboard
The next two weekends will provide a cultural feast for the people of the Goulburn Valley.
Holi will take place this Sunday at 1st Kialla Scout Hall – for those who are unaware, Holi is the Hindu festival of colors which often involves throwing colored powder or chalk at each other.
It's an absolute hoot, and I've spoken to some of the organizers about it. Check out the story here.
Traditional Albanian music, food and dance are offered as part of the annual Albanian Harvest Festival.
The festival, at the Queen's Gardens in Shepparton on Sunday March 20, is one of the biggest celebrations of Albanian culture in Australia.
Georgia Rossiter checked this one out – both are brilliant opportunities to get involved in our wonderful, diverse community.
UPDATE, 1:45 p.m.: Calling all music fans
If you like Phantom of the Opera, Starlight Express and Cats (the stage show, not the movie – we're not talking about the movie), then you're in for a treat.
Andrew Lloyd Webber's greatest hits will be played in Shepparton next week at the Riverlinks Eastbank.
Thom Monaghan has the story, check it out here for more details.
UPDATE, 12:45 p.m.: Need an idea for lunch? Banh Mi a new option
Yesterday I went to Vietnam Street Foods 888 on High St – not to grab a bite to eat, but to chat with owner Nam Phung, who opened the store this week.
He has been in Shepparton for two years and in Australia for eight years, and had his first day of trading on Tuesday.
I'm sure I'll be popping in for a bite to eat in the next few moments, so if you're feeling peckish, give them a try. Read the full story here.
UPDATE 11:20 a.m.: Showgrounds Testing Clinic will close over the weekend
The COVID-19 Testing Clinic at Shepparton Showgrounds will be closed Friday through Monday (inclusive) over the long weekend.
Additionally, the drive-thru testing clinic will only open on Tuesdays and Thursdays starting next week.
The Graham Street clinic will remain open seven days a week from 8 a.m. to 4 p.m.
A GV Health spokesperson said this was due to lower demand for drive-through testing.
UPDATE, 10:25 a.m.: Treaty by-election vote underway
The vote to elect a general seat of the Assembly of First Peoples of Victoria to represent the North East region is well underway, although one candidate has withdrawn.
Lisa Thorpe withdrew her candidacy for the by-election due to personal circumstances.
Check out Caitlyn Grant's full story here.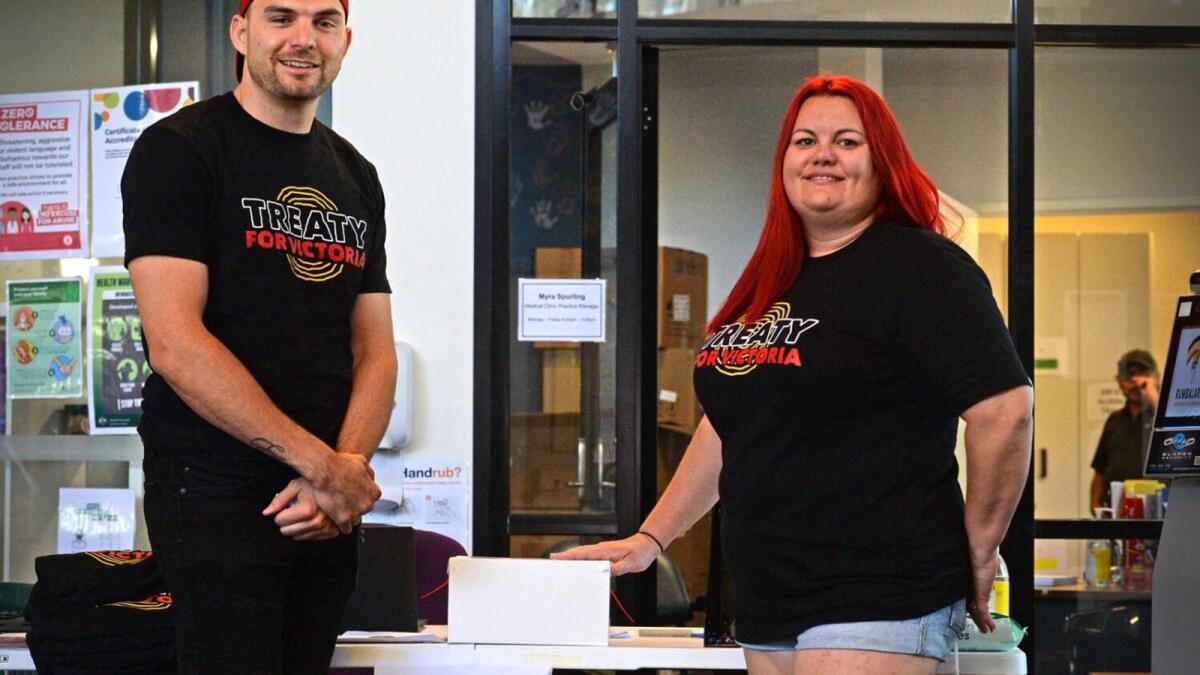 UPDATE, 9.15am: Man dies following 'medical incident' on Vaughan Street
A man has died following a 'medical incident' at Vaughan St.
Emergency services were called outside Coles on Wednesday.
Police have not released any further information about the incident.
We'll have a bit more information for you later this morning, but for now our thoughts are with the person's family and friends.
UPDATE, 9:00 a.m.: Overnight news summary, along with an "update"
We're going to weed out some of the bad news or most nasty news from the night before moving on to some dog news. Bear with me, there is a reward here.
It has been revealed that a NSW man died of Japanese encephalitis last month.
Japanese encephalitis (which is a word I'm going to have to learn to spell from memory very quickly) has been spread across South Australia, Victoria and NSW by mosquitoes.
There was a little (that's a lot) of flooding in the north, and an overnight report detailed what we already know: climate change is making extreme weather events even worse.
"Floods, such as those now unfolding in Queensland and New South Wales, are made more likely by climate change. Global action in this decade will determine how much worse things get.
Prime Minister Scott Morrison visited the area yesterday after recovering from his coronavirus diagnosis, and said any support the government could provide would 'never be enough'.
In Ukraine, a Russian airstrike is reported to have bombed a children's hospital in Mariupol during an agreed ceasefire aimed at letting civilians escape from the besieged city.
It's hard not to agree with Ukrainian President Vlodomir Zelenskiy, who called it an "atrocity".
I promised you something to cheer you up, and here it is: doggos.
Look at this fat dog floof. Look at his big smiling face. There are still good things in this world, and Memphis the Bernese Mountain Dog is one of them.
He and his best friend Cleo are the focus of this week's Pets page, and you have to see all of Megan Fisher's pics in this thread here right now.
Also, do you remember Louie? Guthrie St Primary School's new puppy? He stirred up the school this week to visit a student who broke his arm. My heart is full again.