Welcome to this week's edition of the Royal Caribbean Publications Roundup, where we summarize all of this week's Royal Caribbean news and information in one handy article! There's plenty of great content to enjoy, so sit back, relax, and enjoy this week's roundup!
Royal Caribbean updated its Covid protocols this week to allow unvaccinated cruisers on most of its ships.
From September 5, all travellers, regardless of their vaccination status, can sail the following routes, provided they meet the testing requirements to board.
This includes cruises that sail from any Florida homeport, as well as Los Angeles, Galveston, New Orleans and most European cities.
Although vaccination is not mandatory, Royal Caribbean requires all passengers to disclose their status upon check-in to ensure they maintain a highly vaccinated onboard population.
Royal Caribbean News
Royal Caribbean Blog Podcast
The 466th episode of the Royal Caribbean blog podcast is now available, where Rebecca reviews her Quantum of the Seas cruise to Alaska.
Quantum of the Seas gets lost in the mix of Alaskan cruises to consider, so Rebecca talked about her recent sailing on Quantum.
Feel free to subscribe via iTunes or RSS, and head over to rate and review the podcast on iTunes if you can! We would appreciate it.
Video: All Royal Caribbean Crown and Anchor Society LEVELS and BENEFITS!
Are you subscribed to the Royal Caribbean blog YouTube channel? We regularly share great videos there, all about a Royal Caribbean cruise! This week, we're sharing our latest video: All Royal Caribbean Crown and Anchor Society LEVELS and PERKS!
Icon of the Seas Exclusive Aerial Photos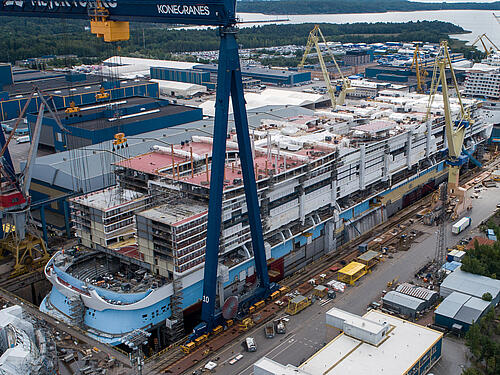 We have a new batch of Icon of the Seas construction photos to share from the shipyard.
RoyalCaribbeanBlog commissioned their own aerial drone photos to share what we can see so far from the shipyard.
These photos were taken earlier this week and show the progress being made on a ship that we still know little about.
Royal Caribbean will increase tips
Starting September 7, the daily tip rate will increase.
Royal Caribbean will charge passengers in non-suite staterooms $16 per person per day. Guests in suites will be charged $18.50 per day.
This is the first free rate change in over 4 years. Daily gratuities are shared between catering, bar and culinary services staff, cabin attendants and other hotel services teams working behind the scenes.
Allure of the Seas is the latest Oasis-class ship with some classic features
As the Allure of the Seas has yet to gain Royal Amplification, she remains the last Oasis-class ship with amenities and locations that have since been removed from other ships.
In the meantime, customers can enjoy some classic features that you can't find on others or are being phased out.